Honesty demands that you glance down and admit that your feet may need some extra care. This is where foot peels swoop in to save your day.
Your feet endure a lot when you walk non-stop, climb and descend stairs, and move around while working out. Since calluses and cracked soles can develop while wearing any footwear, they are a constant nuisance. Therefore, if your feet appear calloused, it is usually time to give them a little extra care and attention than usual.
As a result, in our article today, we discuss How Often You Can Do a Foot Peel?
Table of Contents
How Often Can You Do a Foot Peel?
A skin peel should not be performed more frequently than once every six to eight weeks. The consequences of a foot peel treatment last for a long time. If you are fortunate, that pleasantly smooth and soft feeling will last for several weeks, if not months.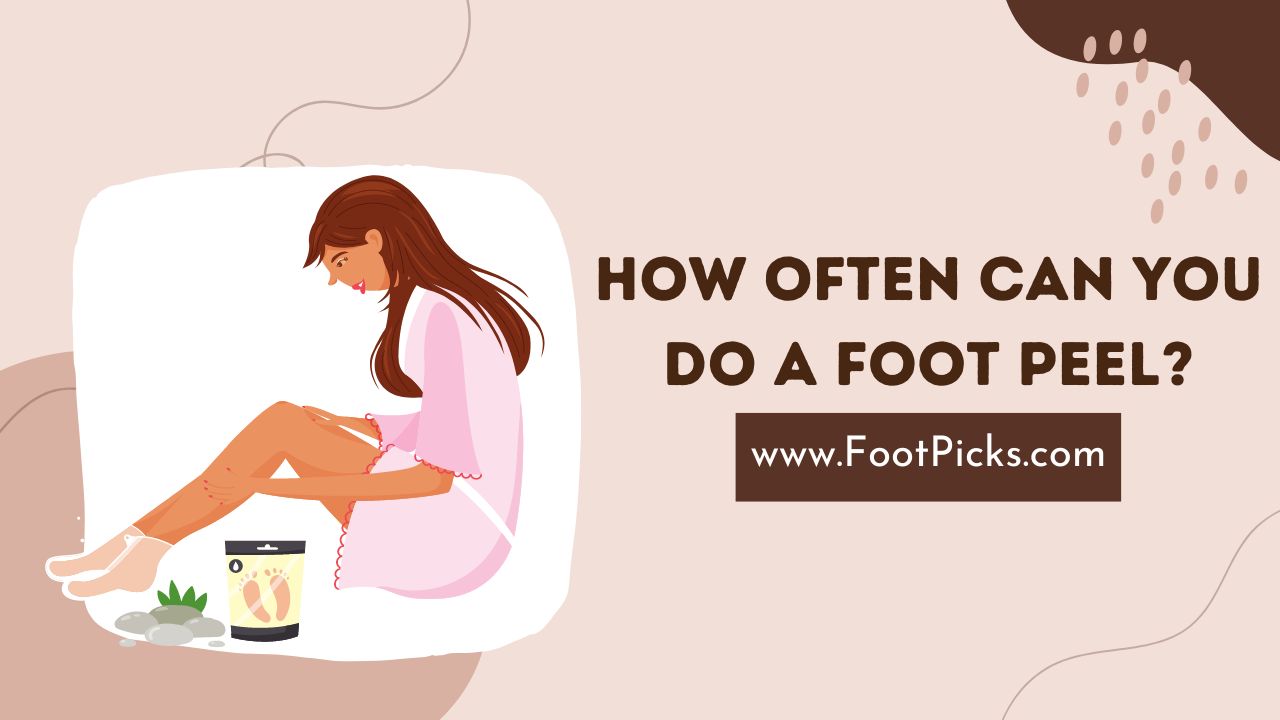 Based on your pace of skin cell regeneration, many professionals suggest utilizing chemical foot peels no more often than once per month. However, considering how effective the foot peeling treatments are, you can have smooth feet for two to three months without the need for a repeat so soon.
As the professionals recommend, you should not frequently include a foot peel treatment in your hygiene practice. It is primarily a one-time thing, at least in the beginning.
Frankly, once the dead skin has been removed, I would be astonished if anyone needed it as frequently as every three to four months.
What to Expect After a Foot Peel?
The fact that a foot peel won't take effect right away is among the most crucial points to learn about it. In other words, you will not see any effects after your initial foot peel treatment.
Your feet will initially feel the way they used to once you finish spreading the peel. Once the shedding begins, it requires a few days before it becomes noticeable. After that, the dead skin just keeps peeling off until the bottom of your feet is soft and supple once more.
The procedure is as follows:
Firstly, you should apply the foot peel following the directions written on the box. Usually, your feet should be soaked for around fifteen to thirty minutes.
With foot peels, this is obvious. You have to remain patient and wait for the foot peel to do its magic on your skin. It usually takes five to seven for its effects to be noticeable.
Eventually, the peeling will start. When it does, make sure you do not interfere with the process. For example, avoiding touching the area, using scrubs, or manually peeling off the skin with a pumice stone.
You can certainly use lotions if you want to (read: for the peace of mind). You may use any lotions or oils that are fragrance-free to your feet to keep them moist and hydrated.
Be sure to cover your feet. Wear socks, for example, during the entire process to collect the bits of dead skin. Until your skin has finished peeling and shedding, keep your feet covered.
Based on the amount of dead skin there is on your body, the peeling period can last from one to two weeks.
Why Does It Take a Week for Foot Peels to Work?
The dry, worn-out skin of your feet usually begins to peel after two to three days. But don't be concerned if you still have some dry skin on your feet!
Foot peels typically take longer to function properly because their primary component is fruit acid. In all truth, the dead skin may not begin to peel for up to 14 days.
However, as soon as you will see or feel the dead skin peeling off your foot, you will know that the foot peel has started being effective.
How Can You Get the Best Results Out of Foot Peels?
Whether it is your first or twentieth time using the exfoliating foot peeling mask, you will want to make sure that you get the greatest outcomes.
In order to ensure that you get the best of the best out of the foot peeling treatments, here are some expert recommended suggestions:
Before beginning the foot peel treatment, remove any nail polish. They have the power to seriously muck up your manicure work! Typically, people perform a foot peel once their polish is beginning to wear, replacing it after the procedure is finished.
Invest a lot of time in this. You should start preparing your feet before placing them in the foot peel inside the booties. And later, make sure that you wash your feet afterward.
Do not end your treatment early! Rather, only include it in your agenda if you have enough amount of time on hand.
Make sure to soak your feet thoroughly in water. This is because several foot peels are activated by water, which helps them function as intended. Thus, keep in mind to daily soak your feet.
Do not rush. Your feet may begin to peel anywhere between 3 to 7 days, and for some folks, it may take even longer. Therefore, frequently take care of your feet, and later the peeling will gradually take effect.
Refrain from forcing your feet to peel. Avoid removing the skin from your feet that is not peeling off naturally. It is preferable to cut a small amount of skin if you must rather than remove too much.
Avoid applying lotion or any other oil-based moisturizers. The oils found in the majority of creams actually prevent your feet from peeling. As a result, use water-based moisturizers rather than the oil-based ones. You can start applying lotion again once your feet are done peeling.
Use these suggestions to make your exfoliating foot peel effective. And don't worry! You will soon have the nice, silky feet that you have been craving, and then you will feel comfortable sporting sandals once more.
And, of course, don't forget! Always make use of moisturizers after doing an exfoliating peel to leave your feet feeling nourished and revitalized!
Are Foot Peels Safe?
Foot peels are harmless, but only if you are attempting to treat minor roughness and dehydration. However, a foot peel can worsen your skin issues if you are sensitive to them.
Such problems won't be resolved by a foot peel, which may cause them to worsen by aggravating the skin and introducing chemicals. If you have or have ever had psoriasis, eczema, or contact dermatitis, it is not recommended for you to undertake a foot peeling treatment.
Additionally, you should refrain from using foot peels when you are suffering from certain skin problems on your feet. In such situations, you should take care of the medical problem prior to considering a foot peel. This involves sores, fungal infection, athlete's foot, wounds, rash, and persistent itching.
You should forego the peel treatment in these cases and seek advice from your doctor.
Final Thoughts
Face masks might have initially ruled supreme as the best self-care remedy, but now foot peels are ready to dethrone them. During this time of year, with the sandal season approaching, your feet will undoubtedly be the center of attention. So, to make sure that it looks presentable, you have to ensure that your feet are well looked after.
You have to take care of your feet and keep it moisturized and hydrated at all times. How to achieve that, you might wonder. Our article discusses in great depth your savior – foot peels and How Often You Can Do a Foot Peel.
Do you have any other query regarding how often can you do a foot peel? You can read our other articles.