How many times in our busy schedule do we look at our feet and feel horrified?
For most people, the answer would be "quite often". But do you know that to keep your feet pretty you don't have to rely on hour-long pedicure services?
What if I tell you there is a way to keep your feet looking polished and beautiful without losing your valuable time so you can focus on other important things.
In this article, I will be going over what is an express pedicure and how to achieve such an amazing pedicure at home on a budget.
So if you are interested then keep on reading to the finish. Let's start!
Table of Contents
What is an Express Pedicure?
An Express Pedicure is an efficient and quick fix for your feet when you don't have enough time to do a full-service pedicure. In this, you would typically get nail filing/ shaping, cuticle care, foot scrub, and a light moisturizing. You could also get nail polish on request if you do it an day spa house.
And before everything: You would be treated with a relaxing warm feet soak. You can do an express pedicure at home or go to a salon for a more professional fix.
Key Features of an Express Pedicure
While particular offers may differ between salons or spas, the following are some essential characteristics commonly associated with an expedited pedicure:
Foot Soak: A relaxing foot soak in warm water or a foot spa is usually the first step in the therapy. This softens the skin and prepares the foot for more exfoliation and moisturization.
Nail Trimming and Shaping: The pedicurist will trim and shape your toenails to your specifications. They will pedicure also make certain that the nails are cut evenly and cleanly.
Cuticle Care: Your toes' cuticles will be softly pushed back or trimmed, promoting healthy nail growth and improving the appearance of your nails.
Callus Removal: During an express pedicure, any rough, dead skin or calluses on the heels and soles of your feet are frequently addressed. To smooth the skin, several treatments such as manual filing, pumice stone, or foot files can be used.
Exfoliation: A light foot scrub or exfoliating good pedicure treatment is often used to exfoliate dead skin cells from your feet and expose softer, smoother skin.
Moisturization: A moisturizer or hydrating lotion is frequently used on your feet and legs after exfoliating to nourish and hydrate the skin. This aids in moisture retention and promotes a healthy appearance.
Optional Nail Polish Application: If requested, you can have your toenails painted with a color of your choice. The pedicurist will apply a base coat, then the desired nail polish color, and finally a topcoat for enhanced gloss and longevity.
Quick Drying: To speed up the drying process of the nail polish, some salons may use quick-drying techniques like a nail dryer or a spray to set the polish.
Express Pedicure vs Regular Pedicure
Even though on the surface level, there aren't many differences between an express pedicure and a regular pedicure. Then what sets them apart? The duration, of course. A regular Pedicure is more time-consuming than an express one.
Regular pedicure requires more attention to the details and has particular ways the steps are performed. A regular pedicure will start with a nice salt water foot soak followed by the removal of hard skin and 10-15 minutes of scrubbing. Most salons will apply a mask of your choice as well.
Then do trimming or cutting of cuticles a toe nail, followed by a soothing hot essential oil massage of the feet and the calves. The massage alone will take around another 10-15 minutes this means a regular pedicure will clock in just about 30-30 minutes.
Why Should You Get Express Pedicures?
If you are someone who has little to no time for yourself or has a very crazy schedule that requires most of you and your presence. Then express pedicure is for you. You can visit a salon of your choice and get a quick 10-15 minutes of relaxation.
You could do it yourself on a weekend if you got all the essential tools to do so. You see it's not about the beautification of the feet but spending time with yourself and enjoying your company. It's almost like therapy. A pause button from your super hectic life. If you may!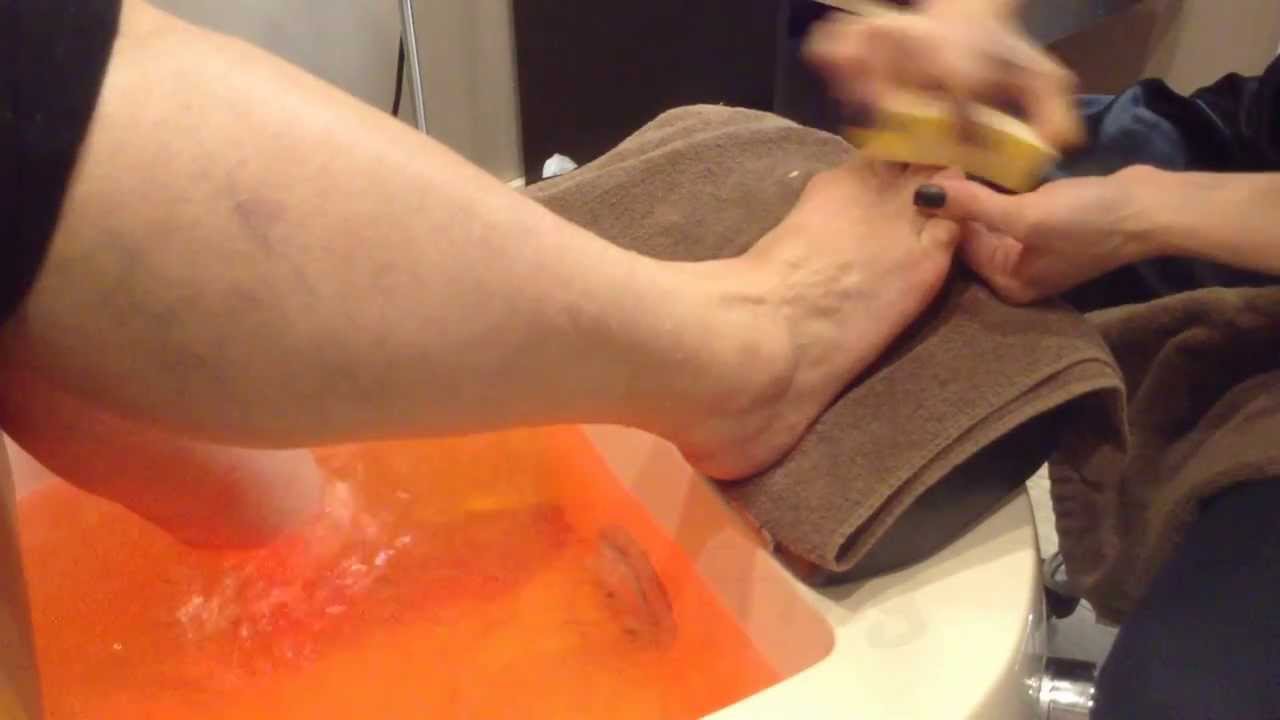 Step-by-Step Process of an Express Pedicure (At home)
Now that you know all about the basics of an express pedicure. Here is a step-by-step process of doing it at home. Once again. It's going to be minimal and budget-friendly.
Step 1: Get a bowl large enough that can fit both of your feet. Add lukewarm water and salt of your choice and soak your feet for 1 minute.
Step 2: Get a feet scrubbing brush and some shampoo/soap and start rubbing on your whole feet in a circular motion. Do this for 20-30 seconds.
Step 3: Rise with cold water. Moving to the toenails, start trimming your toenails with a nail clipper to your desired length followed by pushing the cuticle beds.
Step 4: Rinse one more time. Take any of your favorite moisturizers or oils and start massaging for 1 minute. Be sure to take enough time to stimulate all the nerves and muscles of your feet.
Step 5: It's an optional step. Before you go in with a moisturizer apply your favorite nail polish on the toenails evenly and let that sit for 1 minute.
My Recommendation for At-Home Express Pedicure Tools
Precautions During an Express Pedicure
It's important to mention that if you have any cuts and are prone to toe/foot infections. I highly suggest you don't perform any type of at-home pedicures at home. Because there are different types of pedicures available. As like as deluxe pedicure, stone pedicure, french pedicure, fish pedicure, signature pedicure, basic pedicure, gel pedicure, etc.
That is because you could accidentally spread the infection without even knowing. Or you may get one if you use your tools unsterilized and in the wrong way. Let a professional pedicurist come and help.
FAQs
Q1: What is an express pedicure?
An express pedicure is a quick and abbreviated version of a regular pedicure service. It is designed for people who are short on time but still want to pamper their feet and toes. This type of pedicure typically includes a foot soak, nail shaping, buffing, and polishing of nails as well as a quick massage to rejuvenate your tired feet. In an express pedicure, moisturize and exfoliate steps may not be included.
Q2: What's the difference between a regular pedicure and an express pedicure?
The main difference between a regular pedicure and an express pedicure is the time and services offered. A regular spa or classic pedicure includes a prolonged massage, exfoliation, callus removal, cuticle care, and hydrate steps in addition to the basic nail cleaning and polishing. On the other hand, an express pedicure service is shorter and offers only essential services—nail shaping, buffing, and minor cuticle cleaning.
Q3: What are the benefits of getting an express pedicure?
There are several benefits of getting an express pedicure. Firstly, it is an ideal choice for those who are short on time, but still need to take care of their feet and toes. Secondly, an express pedicure is a great way to refresh and brighten up your nails. Lastly, an express pedicure is often less expensive than a deluxe or spa pedicure, making it a budget-friendly pedicure options.
Q4: What are the pedicure steps involved in an express pedicure?
The steps involved in an express pedicure may vary from nail salon to pedicure salon, but typically include a warm foot soak, nail trimming and filing, buffing of nails, cuticle care, and finished with a polish of your choice. Foot massage, exfoliation, and callus removal may be included for an additional fee. The entire process usually takes around 30 minutes or less depending on the salon.
Q5: What should I expect during an express pedicure?
During an express pedicure, you can expect your toenails to be trimmed and filed, cuticle care to be done, and nails to be buffed and polished. Some salons may also offer a quick foot massage for relaxation. The process is relatively short and should take around 30 minutes. You should leave the salon with well-groomed and polished nails.Copy to clipboard!
Closing Thoughts
It is crucial to note that the services included in an express pedicure may differ from one facility to the next. Check with the salon or spa ahead of time to understand the specific treatments and services included with their express pedicure.
So are you going to get an express pedicure? Let me know your experience in the comments section below!