What is the easiest and quick way to make your feet look beautiful?
One answer I can give you among many is painting your toes with a strikingly bold color that compliments your skin tone. But painting your nails is a real artistic job. And for any artist, if the canvas is not ready the art will never look good.
This is why today I am going to be going over the 9 Best Cuticle Scissors that will make your toes look like it has just been to a pedicurist a few hours ago.
Before we officially start our list….let's learn.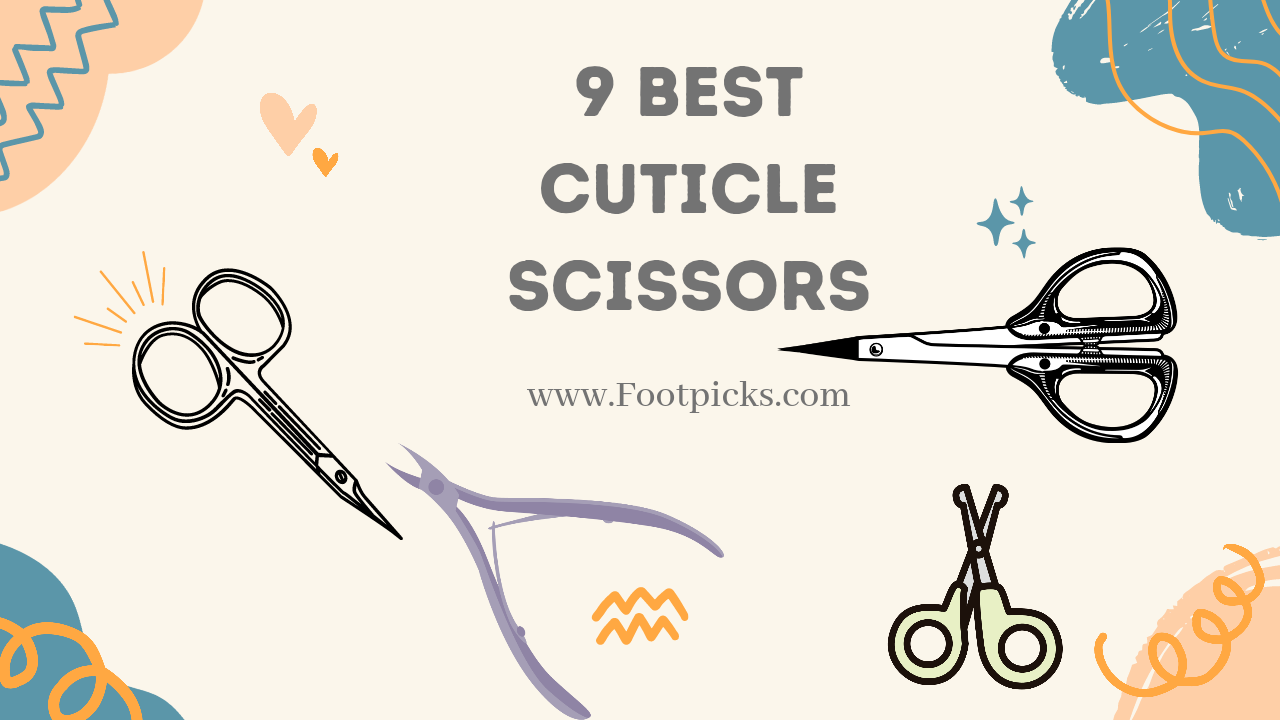 What is a Cuticle Scissor?
A cuticle scissor is a small, sharp scissor that is used to trim the cuticles around the base of the nails. Overgrown cuticles can make your nails look messy and increase your risk of infection.
Cuticle scissors are typically smaller than regular scissors, with curved and pointed blades that make precise cuticle trimming easier. They are made of stainless steel or other long-lasting materials that are resistant to rust and tugging.
The Benefit of Using Cuticle Scissors
01# Cuticle scissors have fine, sharp blades that allow for precise cuticle trimming without damaging the surrounding skin or nails of your foot.
02# Regular cuticle trimming can help prevent the accumulation of bacteria and dirt under the nails, which can lead to infection or other nail problems.
03# Cuticles that are well-groomed can make your nails look neater and more polished. Using cuticle scissors regularly can aid in maintaining a clean and tidy appearance.
04# Cuticle scissors are dainty and simple to use, making them an ideal tool for keeping healthy nails on the go.
Overall, cuticle scissors can keep your nails healthy, sanitary, and well-groomed, making them an important part of your nail care routine.
Now, without further, I do let's start our list!
9 Best Cuticle Scissors
Here are 9 best cuticle scissors that you can buy from Amazon.
Material: Sturdy Titanium
Weight: 3.84 Ounces
First, let's start with a basic cuticle scissor that is also similar of a cuticle nipper. This season is extremely sturdy and has Stainless blades that make snipping away excess skin around your nail beds easy and precise. The titanium coating makes it rust-resistant.
It is very easy to use but a bit sharp. So if you are an amateur or just starting to cut your cuticles I would suggest trying this type of heavy-duty scissors later. It is a professional 3-by-4 job cutter that is perfect for nail salons and pedicure shops.
The grip on these scissors is also safe so no slipping or accidentally cutting yourself. It will not get dull or lose its sharpness over time. The company has a lifetime replacement warranty. If you want you could replace it and get a new one.
Material: Stainless steel
Weight: 1.06 Ounces
Fabcare is a great nail accessories company that sells high-quality products. Stainless cuticle scissors are a crowd favorite among the nail beauty community. The scissor blades itself is very sharp and the finger holes are big enough to give you a comfortable grip.
It is a multipurpose cuticle nail scissor. Therefore you can use this on your toes and your fingers. The sharp blades allow for a seamless cutting job that follows the natural contour of your cuticles.
The product comes in a travel pouch and a protective nip. So you can take this scissor anywhere you want and not even have to worry about damaging or scratching your phones and other fragile belongings. This is a good quality product at a lower price.
Material: Carbon Steel
Weight: 0.704 Ounces
The Refine Cuticle Scissors are made in Italy with the highest quality carbon Steel. The point of this season is extra precise so you can easily trim your cuticles and painful hangnails. The blade is slightly curved and has sharp edges so you will be able to trim even in the tightest areas.
The nickel-plated protection keeps the scissors from rusting over time. They are also suitable for professional grooming. So if any pedicurist has clients that are afraid to use critical nippers on them. This or-like this will do the job just fine.
Your hands and feet will look more polished after you use these scissors to cut your toenails. Your nails grow faster than your fingernails. So trimming your toe cuticles every six months is necessary 8f you want your nail polish to last longer.
Material: Stainless Steel
Weight: 1.06 Ounces
How about we get a multipurpose cuticle scissor that can be used anywhere and anything? I would say that's a win in my book. The THRAU Cuticle Scissors are so lightweight and precise that you could use them on your craft projects, eyebrow trimming, and even cutting fake eyelashes.
And if you want to use for it's regular purpose then I would suggest opting for a professional version 9f this cuticle scissors as it has a curve blade and the grip is easy to manage. Your nail beds will thank you. They also have a classic version, which is good for regular grooming.
You get a travel pouch with these cuticle scissors and a lifetime warranty. And surgical grade stainless steel will allow you to use it tension free and won't cause bacterial infection. Just wash the tool every time you use it on yourself or others.
Especially if it's been around dirty feet and toes.
Material: Alloy and Stainless Steel
Weight: 0.8 Ounces
Who better to understand beauty and nail care than Revlon, am I right? The Revlon Cuticle Scissors keep your fingers and toes tidy and put together. It is going to leave your hangnails at bay. Its nicely curved blades give you the most perfect and precise trimming.
Made with durable materials and long-lasting tempered alloy steel preventing premature rusting. . No person exists that has not used Revlon nail paints at least once in their life. So it is only appropriate that you prepare your nail beds with one of the products.
This is also a great idea to gift someone if he or she likes to paint their nails and toes, and is looking for some great nail-prepping tools to add to their essential nail kit. The price is also very reasonable. And it is an investment as it's gonna lost you for a very long time.
Material: Leather handle with Stainless Steel blades
Weight: 1.44 ounces
It's time to introduce some fun colors to your plain old silver cuticle scissors. The Stelone Premium Cuticle Scissors are Pink Cuticle Scissors that would look amazing in your beauty accessories collections.
Does all the same things as regular cuticle scissors. It is stainless and had amazing precision due to its curved blades at the top. It gets into the nooks and crannies of your nails, giving you the most professional-looking pedicure.
The dead cuticles on your toes are a little bit hard to clean up. And frankly, just scissors alone cannot properly do their job. So you have to so cute feet into one water for 10 to 15 minutes and gently push back the cuticles, and then cut them with the scissors.
Material: Stainless Titanium Steel
Weight: 1.13 ounces
Okay now, let's try a blue cuticle scissor that will work just as fine as your regular cuticle scissors. It is one of my personal favorites and I have one at my home to cut my cuticles. It is a fan favorite for sure. I even gifted one to a friend because she liked mine so much.
It is of premium quality that made with 100% surgical grades stainless steel. The razor plate is extremely precise and has a very sleek modern design. Provides a close cutting at any angle. It is a very useful tool for those beginners who just want a quick train to make their toes and hands well groomed.
The finger ring is also spacious so you have excellent control without unnatural pinching or discomfort. Comes in a leather pouch so you can protect its shelf life a lot longer than your regular cuticle scissors. It is a multipurpose tool so you can use it all over your body.
Material: Stainless Alloy
Weight: 0.69 Ounces
This product is an Amazon best-selling for a reason. Their manicure and pedicure accessories are one of the best in the market. The brand LIVINGGO is an ll-high-quality brand that supplies products globally. The stainless steel they use in their products is rust-free and long-lasting.
They offer two different finishes of cuticle scissors: one silver and one gold. And comes in a protective box with foam padding. The tip of the scissor is curved so you get easy access to the hardest part of your toes and fingernails.
It is nice and not flimsy, so don't be worried about accidentally cutting or over-cutting your fragile cuticles. The mirror finish design allows for easy cleaning. So it's super sanitary and allows for multiple uses for anything from your eyebrows to your mustache.
Material: Stainless Steel
Weight: 1.13 Ounces
And Finally to finish off this list. We have Maluk Store Professional Scissors. These cuticle scissors come in three different sizes. Ranging from small to large. The small one is 18mm, the medium is 21mm and the largest one is 23mm. So size no finger is left out.
This one is the one that you would see nail technicians use on their clients. Pedicurist loves to use these scissors because of their sharpness and functionality. It gives you a clean cut every time. It is a great beauty accessories tool. That everybody should have in their beauty bag.
Grooming your nails shouldn't be an afterthought because people look at our feet and hands very closely than we think. To make them look lively and not ugly. Regular grooming is necessary. And that starts with taming your cuticles for a strikingly set of nail polish jobs.
And if you are looking for any professional cuticle scissor, then this is your solution: best professional cuticle scissors.
Note: May be you are the one who love best German cuticle nippers or Russian cuticle scissors. Or even you should buy Tweezerman cuticle scissors too. Its totally depend on you. But here, we listed only 9 cuticle scissors which is suggested by our experts.
Frequently Asked Questions (FAQ)
Q1: How safe is it to cut your cuticles on your own?
A: It is actually really safe to cut your cuticles. But only if you know the right method and have the right tools. One common mistake people do is the jump right in with the scissors without preparing their toes or fingers. If not done right you can potentially cut yourself or even risk a fungal infection.
Q2: Which one is better cuticle nippers or cuticle scissors?
A: If you are a beginner then start with cuticle scissors. But if you have mastered the art of nail grooming then I would say opting for cuticle nippers is the next best option. They both do the same job but the cuticle nipple is a little intimidating and can be quite hard to manage if you don't know how they operate.
Q3: Should you cut your nails with cuticle scissors?
A: No, you should not cut your nails with cuticle scissors. A nail is much harder than a cuticle so it would not work and potentially damage your Cuticle Scissors for good.
Q4: How often should you cut your cuticles?
A: You should not cut your cuticles more than 2 to 3 times a year.
Q5: Do your feet needs to be wet when cutting cuticles?
A: You need them to be dry but your cuticles need to be softened before cutting them. You can use a cuticle remover cream or even alcohol to get your cuticles to soften.
Final Thoughts
I hope you enjoyed this article. Keep in mind these are not sponsored recommendations, but purely my choice of preference. I have tried my best to include the price range within the affordable bracket. There are other alternatives when it comes to cutting cuticles. But these scissors are the best in my opinion.
So which one of these amazing 9 Best Cuticle Scissors are you going to purchase?
If you are afraid to cut your cuticles but don't want to spend money on pedicures. Then try any of the 9 Best Cuticle Scissors, as it's beginner friendly.
You may curious to know: Can you carry cuticle scissors while you will fly?