You're at home watching countless Reels and Tic Toks on how to do acrylic nails. You also notice they pull out a small drilling device that buffs away any nail polishes effortlessly.
Now you're thinking how can you get my hands on that machine and will it make you completely broke or not? Well, you're in luck because I'm here today to talk about everything about Electric Nail Drills and suggest you 9 Best Electric Nail Drills, that are a great value for your money.
Your nails will thank you for days!!!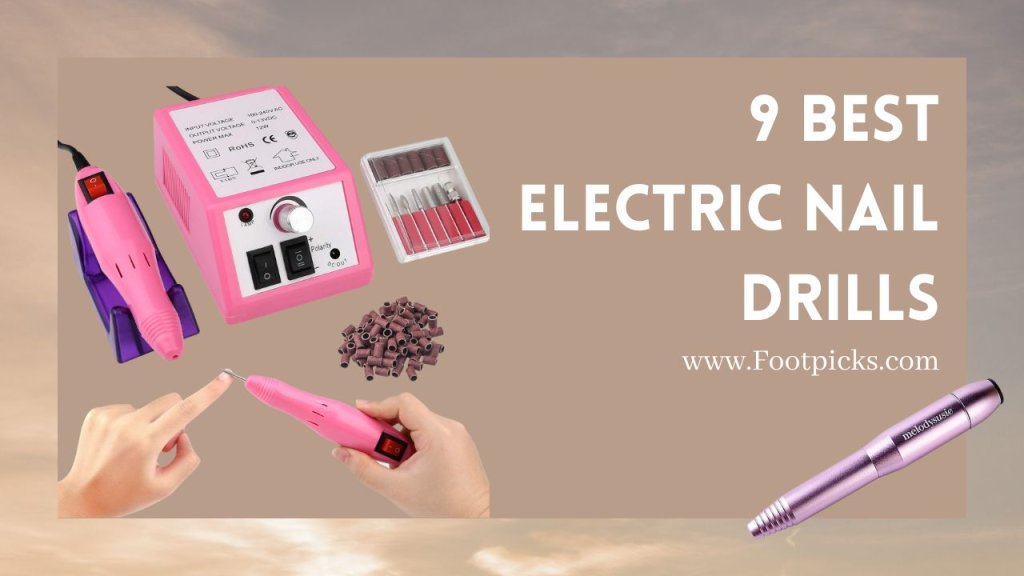 But before we begin. We should start with the-
What is an Electric Nail Drill Machine?
A handheld tool used in manicures and pedicures to shape, buff, polish, and remove dead skin or cuticles around nails is an electric nail drill. It is also known as an e-file or electric nail file.
The drill is made up of a power supply-connected handpiece and a set of interchangeable bits or attachments such as diamond bits, sanding bands, buffing pads, and carbide bits. These high-speed bits can be used to shape, file, and polish natural or artificial/ fake nails.
Before You Jump Ahead!
Professional nail beautician use electric nail drills in salons (sometimes they use best professional nail drill kit too). But they are also available for home use. When compared to traditional manual nail files, they provide greater precision, spending, and control, making them a more efficient tool for nail filing.
However, they can be dangerous if used incorrectly, so it is critical to follow the manufacturer's instructions and wear protective equipment, such as a face shield and a mask when using the power tool.
Why Use This Intimidating Drill?
Professional nail technicians or just you looking to improve the quality and efficiency of their services may find electric nail drills to be an excellent investment. Some of the benefits of using Electric Nail Drills are:
Benefit 01# Electric nail drills enable precise and accurate filing, shaping, and buffing of nails, which is especially useful when working on intricate nail designs or in hard-to-reach areas of the nails.
Benefit 02# A nail drill can complete tasks much faster than a manual file, making it an ideal tool for professional nail technicians looking to save time while still providing high-quality services.
Benefit 03# Using an electric nail drill can alleviate the strain and fatigue associated with using a manual file for extended periods, making it a more comfortable option for both the user and the client.
Benefit 04# Electric nail drills frequently include multiple attachments, allowing drill users to use them for a variety of nail grooming such as removing old nail polish, smoothing rough edges, and removing calluses.
Now that we are all caught up with the essential nail drill knowledge. Here are some suggestions for the best electric nail drills that are available to order online.
9 Best Electric Nail Drills
If you are looking for best nail drill on amazon, you can see these 9 awesome nail drills:
Power: 17 Watts
Battery Life: Cord only
At first, we have the Beurer MP42 Nail Drill, which is very fast and efficient when filing away nail polishes and fake nails. It's in a beautiful white color and comes in a box to store all the heads and the device neatly. There are 15 different power settings to choose from.
So you can select your level of comfort very easily. This device is very gentle on your nails so you would not be damaging your nails. It's salon-grade so you also get great precision.
The ergonomic grip keeps the drill steady and easier to use even in the tightest areas.
You too nice need a high power setting so try a couple of times before fully going in with the device. The power cord means it does not let the device bog down. So you could use it as much longer as you like.
Power: Charging DC 5V, 1A
Battery Life: 2hrs continuous after a single charge
Next let's take a look at the POLAMD Electric Nail File Set, which happens to be my favorite electric nail drill for sensitive nails. This professional manicure and pedicure kit is made for salon quality and can handle both fragile and thick nails. It can be used on all genders.
The various pressure setting can even allow for it to be used on children's nails and toenails. The two-hour continuous cordless operation helps to easily remhardenedrden skin and calluses. Even if you are left-handed you can easily use this device.
LED light indicates how much battery power and pressure there is. It does not have overheating issues. And it comes with three different color options. So you can choose whatever design fits your vanity the best.
Power: 18 Watts~
Battery Life: 10-13 hours on one single charge
The Moeckearla Home Salon Electric Nail Drill Machine is another speed-controlled Electric Nail Drill that gently buffs off nails on your hand and toes. The long press button will be put on/off and the short press will start and pause the device. It's very easy to use for everyone.
You can use this machine for multiple sets of manicures and pedicures. Which is ideal for any Nail salon. But if you are doing it at home then you can use this device and have not to charge it until after the second time you use it. The machine will come with 6 metal bits and sanding bands.
Also easy to change because of the highest-quality twist and lock system. Despite the nail, the drill is made of special aluminum alloy with low vibration. Often most other nail drills can be a little too abrasive on your nails but will leave your nails looking silky smooth and ready for the next round.
Power: 110V-240V with 50/60Hz (US Plug)
Battery Life: Cord Only
This multifunctional electric nail drill has been a consecutive Amazon best seller for many years now. Design with 6 types of metal beats and 6 types of sending balance that can be used for polishing, cutting, and grinding. You could even use it on your pets and children to file their nails.
The electric file is powerful but runs on a quiet motor. Which is ideal if you want to cut your baby's nails while they are sleeping. The compact and lightweight design makes it easier to carry. So take this with you while you're on a vacation or just somewhere you need your nails to look pretty.
It is chord only so you don't have to worry about charging it. And it will also not overheat. But I recommend using only 20 minutes at a time and turning it off immediately. To increase the longevity of the device.
Power: Unspecified
Battery Life: 12 hours of use after a complete charge
How about a nail drill that looks like a Walkmen? If you want a dose of nostalgia and also a fully functional electric nail drill then the Caattiilaa Professional Electric Nail Drill Machine got you covered. It does all the same things as a regular nail drill does but looks a little edgy.
It is also specially designed for amateurs and beginners. So if you are looking for best nail drill for beginners, then you can use it on yourself with the risk of getting cuts or over-filing. The headpieces are sharp yet gentle and you can use them on your toes as well. The lightweight design allows for more comfortable use.
It is worth noting that this device should be only used for acrylic nails and not oil-based or gel nails. Because most of the nail beautician uses this best professional nail drill for acrylic nails. And use a nail polish remover to remove it. If you want to operate this efficiently then charge the device to max after each session of use.
Power: 100-240V 50-60Hz
Battery Life: 12 hours working from 2 hours of full charge
Next on the list, we have a beautiful shade of pink electric nail drill that would look amazing on your nail care kit. This professional electric nail tree will give you a sleek file every time. The machine has Japanese technology built in, so you know your product was made with the highest quality.
This low heat and low vibration drilling will gently perform your calluses and dead skin, revealing smooth and clean nails underneath. There are various speed options with an LED display so you have full control over the device.
The drill comes with a premium carrying bag so you don't have to worry about storing it in awkward places. It also comes with 20-piece removable heads. So there will be a drill for every shape and size of nails on your toes to your hands.
Power: 5V/2A input
Battery Life: Cord only (USB-C)
The YaFex Electric Nail Drill is a powerful and adjustable nail drill that is ideal to drill acrylic nails either in salons or in your home. The set includes 6 pieces of drill bits and 30 pieces of sanding bands that will buff away even the toughest nails.
The e-file nail drill is capable of absorbing shock and producing lower noises. So you will not be intimidated or let others be terrified of this device. I suggest you use this device only if you have some sort of previous experience handling this type of device.
You will get the most comfortable nail art experience of your life. The drill works in both clockwise and counterclockwise directions. An easy when ideal for left-hand users.
Power: 110V-240V 50-60HZ (US Plug);
Battery Life: Cord only
Another Amazon bestseller I want to include in this list. The Airsee Electric Portable Nail Drill will give you the most professional results just after a single use. You will be amazed by how much good this works on so many nail shapes.
I suggest till snail drill to professional nail technicians instead of at-home use. Because even though it may look all the same. But this one in particular needs precision handling. If you are someone who wants to get into the nail art business then you can invest in this device.
It looks like a pen and is very portable so you can even carry it around to the house of your clients. There are 11 different types of drill heads to choose from. From polishing, and shortening to surface work. You can do it all with just this one device.
Power: 18 Watts
Battery Life: Upto 10 hours
And finally ending the list with the Delanie 35000PM Nail Drill. This is a powerful electric nail drill that carefully shapes and grinds your natural set of nails. It can handle buffing thickness and acrylic nails. It has an anti-vibration function, so no accidental overfilling of your nails.
The product is made with aluminum alloy with ventilation holes. So you would not face the issue of overheating. This smart LED screen allows for displaying the battery direction and RMP. Which makes it easier to use by anyone.
Disposable Mail train can be used on gel nail polish keeping powder critical and dead skin removal. You could also use the to file your cats and dogs' nails. It is gentle yet powerful enough. You could also customize the speed on the device from lowest to highest.
Frequently Asked Questions (FAQ)
Q1: Are nail drills actually worth the money?
A: Yes, they can be a good investment if you frequently used acrylic nails and artificial nails to enhance your fingers and toes.
Q2: Will nail drills damage natural nails?
A: if used incorrectly and way too frequently it will absolutely damage your natural nails.
Q3: What is the best nail drill machine type?
A: Ideally a 15,000RPM is why what you should be looking for in nail drill machines. And also low vibration and low heating are optimal.
Final Thoughts of Best Electric Nail Drills
Be very careful when using a device that requires this much power on your nails and nail beds. Nails are made with keratin protein, the same as your hair. So using a power tool for an extended period can be very harmful.
And of course, there is the possibility of going overboard and eternally damaging your nail beds.
I hope you enjoy today's article on the 9 best electric nail drills. Is there something else you would like me to review? Sound off in the common section below.
Similar Article: