Picture this. You woke up early in the morning, went to your job, and stood on your feet the whole day. Finally, you come back home.
What would be your ideal rewinding activity?
Is it watching TV, running a relaxing bath, or just an old-fashioned glass of wine while blasting 60's jazz music on your music system? All of these sound amazing, doesn't it?
But what if I tell you that all those relaxing experiences can be amplified if you just incorporate an excellent automatic foot massage machine into the mix?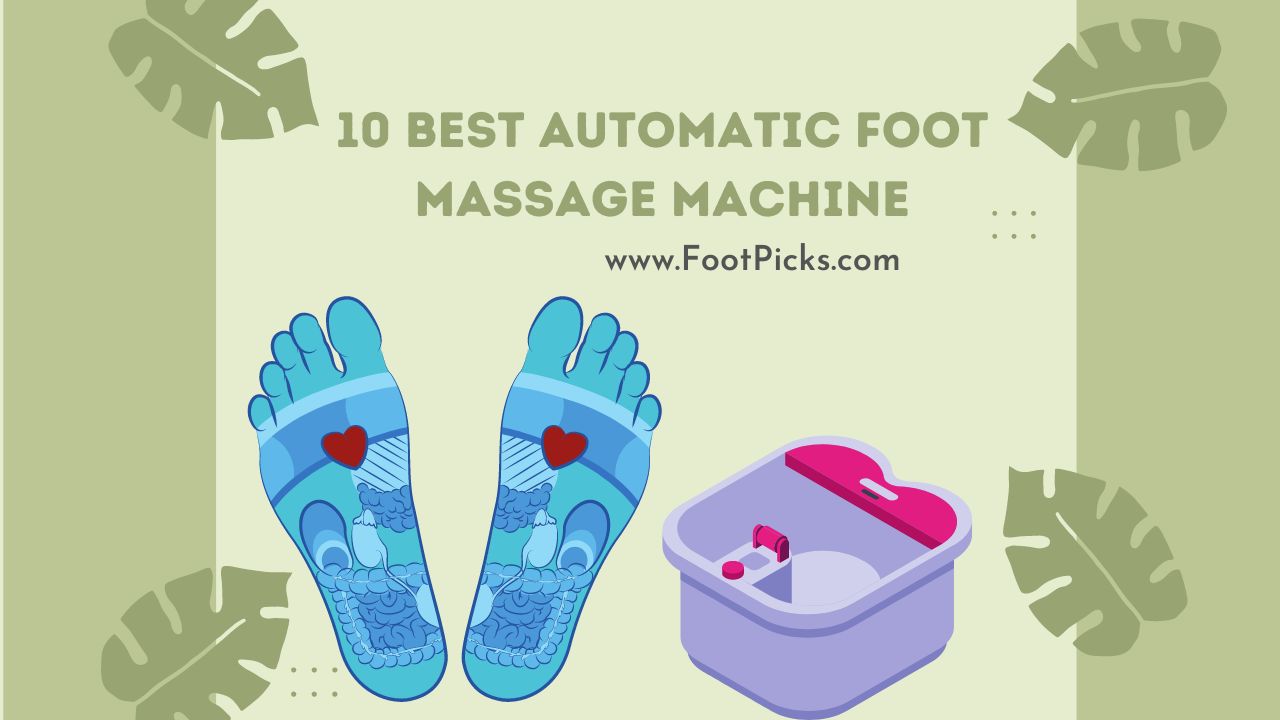 If you are intrigued as to what benefits an automated foot massager has and what type of foot massager you should look into that best suits your preference, read this article all the way through!
But first, What is an automatic foot massage machine?
It is precisely what it says, an automated machine that will massage your feet by generating heat and rotating in a certain way or blast cool water that will put pressure on your calves/heels/feet.
So without further ado, let's kick start our discussion on the best foot massager machines.
10 Best Automatic Foot Massage Machine
Let's move to check the best foot massage machine including best foot massager for plantar fasciitis. Also, if you are looking for best foot massager for neuropathy too, you are in the right place.
01# QUINEAR Shiatsu Foot Massager
Features:
Heating function
6 types of massage intensity settings
Adjustable kneading speed
2 massaging modes
This QUINEAR Shiatsu Foot Massager with Heat, Deep Kneading Air Compression Feet Massage Machine for Neuropathy Pain and foot massager for circulation – 6 Intensities 2 Heating 2 Mode & 2 Speeds is an ideal device to improve blood circulation in the sore area and release fatigue.
Japanese foot massage, also known as Shiatsu massage, is an excellent way to de-stress yourself through compressed pressure on your leg muscles and give you a wonderful night of sleep.
If you have significant foot pain, have overly weary feet, and are just not standing in a good posture every day, you might want to invest in this device.
There is no beating an actual human hand foot massage, but this device is specifically designed to give you a heel-to-toe foot massage that presses on all the crucial points. It has 6 compressing intensity, massaging modes adjusted to personal preference, and heat functionality
to evenly distribute soothing sensations.
The safest option is also available and can be helpful if you feel the pressure the machine has been building up is too much for you. Another notable feature of this foot massager is 20 minutes of auto-shut, ensuring proper break time.
This Shiatsu-style foot pain relief device is easy to clean as all foot compartments can be removed and washed after frequent uses. This will ensure no germs and bacteria can get between your toes and cause detrimental harm.
It's also a great device the whole family can use with or without foot pain. A lovely holiday gift idea if you know a loved one could use these types of heat functionality-based foot care massager.
02# The Aqua Relief Hot/Cold Therapy Machine
Features:
Pain relief therapy via water pressure
Foot heating pad
Double wall insulator
15 minutes increments of heat/water pressure
What's better than having one type of setting on your foot massager? Having two different therapy reliefs. One water-based and one heating based, giving your foot a complete spa experience at home.
It's an all-purpose foot massager that accommodates your muscle tension aches, plus a waterproof device that houses your foot for sore foot relief
This device, in particular, can hold 5 hours of ice-cold water and a cryo cooling system. And the heating functionality can also be adjusted with a timer of 19 minutes. I know how hard it is to live with chronic pain. I recommend this product.
When we were young, our parents gave us cold or hot compression depending on the severity of our muscle injury. You can think that this foot massager is a glorified version of that concept.
The stiffness in your tendons and calves and frequent muscle spasms can be controlled if the device is used to its fullest.
Another great thing about this device is that athletes are instructed to use this foot massager device to relax their tired feet and address sore muscles. The hot and cold therapy unit gives the troubled a jolt of non-painful stress release that makes your life so much easy,
Because who has time for running around with tired feet, am I right?
03# Medcursor Shiatsu Foot Massager with Built-in Soothing Heat Function
Features:
6 messaging heads with 18 rotating heads for deep kneading
Overheating protection
Cloud massage
Height levels are adjustable
Another massager added to the list is Medcursor Shiatsu Foot Massager with Built-in Soothing Heat Function. This automatic foot massager device is your typical foot massager machine that heats up just by pressing one button.
If you are a fan of Shiatsu massagers and get it done by experts every time you visit a foot spa, then this product is perfect for you.
It has 18 rotating nodes that gently massage your heels and feet, making it a perfect remedy for tired feet and chronic pain in your heels. The heat function in this device not only gives you a deep kneading stimulation that feels like a human touch but also puts pressure based on your foot size.
You can say goodbye to muscle tension and start falling in love with shiatsu kneading your beautiful feet.
This device is easy to carry around the house and very simple. You just rest your feet on it, and the device will rotate randomly, making you feel like you are getting heat therapy for your foot pain.
As much as fun this device could be, if you are thinking about gifting it to your grandparents or a beloved who has weak bones and is on pacemakers, then do not get them this type of electric foot massager.
Be sure to consult a Podiatrist if you want to solidify that they can use such a high velocity heated foot massager.
04# Cloud Massage Shiatsu Foot Massager Machine
Features:
Heat compression therapy
3 types of intensity level
Adjustable bar
Sway functions to loosen up cramped muscles
Chances are that anyone who has remotely searched about automated foot massage machines or knows a person who is super into health and yoga lifestyle has already heard about Cloud Massage.
It is that notorious product featured in 'as seen on TV' segments late at night. But the real question we are asking here that if the foot massager is any good.
To start, we have cloud massagers using shiatsu techniques to provide a deep kneading foot massage that helps increase blood circulation, reduce inflammation and provide pain relief.
Some might say that this device is the best automatic foot massager machine.
I believe they all say this because the foot massager addresses the foot and heels and is utilized as a calf massager. It supplies excellent heat therapy to the overall leg muscles. And you can also customize the intensity levels from gentle to strong.
If you are pregnant or just had hip surgery, this foot massager is not be used on you as shiatsu foot massage can be pretty harsh and might cause significant injuries. In contrast, seniors can find it beneficial by incorporating this product into their at-home foot therapy sessions.
The base of the foot massager is adjustable, so you can position it however you like. Another great use of this electric foot massager is to use it after a long jog or just an intense leg day at the gym.
05# Best Choice Products-Therapeutic Shiatsu Foot Massager Kneading and Rolling
Features:
Display screen for power and timer
Has auto mode
Easy to carry and washable foot mats
High intercity rolling with 3 settings
Next on the list of best foot massagers, we have this LCD electric foot masager that lets you see temperature, time, and other settings on the device.
What's great about this product is that anyone with lower pain tolerance to high pressure will be able to control the heat e just by visually seeing the temperature setting and then understanding how long they need to keep their ankle/ feet in the machine.
This is a shiatsu foot masager device as well. So you can get the same benefits from those massaging techniques on your feet and ankles. The product is reasonably less expensive than any other foot masager I have listed in this article.
Best Choice Products-Therapeutic Shiatsu Foot Massager Kneading and Rolling for Foot comes in 3 different shades, whereas others will have only one to two available. This will not influence the performance of this foot device, but it's nice to have some color options nonetheless.
06# Human Touch Reflex5s Foot & Calf Massager
Features:
A wrap-around design kneads the calves
Heat pads with ergonomic design
Targeted circulation
A feeling like a manual foot massager
Human touch is a grade brand that specializes in food care and foot massage devices. Podiatrists and orthopedic doctors highly suggest them. The product is very professional, with a high-quality organic design to aid foot pain and release muscle tension.
Some cool features come with the foot massager, where there are three different types of settings.
One is a shiatsu massager setting; then we have an auto setting with an ideal 15-minute timer; next, we have motion control of the notes that rotate to knead to calves and feet. Their supreme quality reflexology gently massages the foot in a rolling motion.
This product is a perfect gift for your loved ones, and the reviews for this product are a testimony to how unique this product is.
One reviewer on Amazon.com wrote that they were suffering from ankle pain, but this foot device has made his life stress-free and provided care of human touch.
07# Turejo New Upgraded Neo mint Green Foot Spa Bath Massager
Features:
At-home foot spa session
Red light, heating, and bubbling settings
Leakage proof
Removes calluses and dead skin will pumice stone attachment.
Why is a foot spa so famous? The one reason I can tell is that the massages they give to our feet resonate with the maneuvering of the Shiatsu technique.
This device on our Foot Massager machine list is a 3-in-1 foot machine that cleans your feet, provides heat for a deep kneading sensation, and scrubs to remove the dead skin layers on your skin.
The device is very customizable, and you can add essential oils to the bubbling foot bath and even use medicated products to target your problematic feet. The heat function on this foot bath massager will range from 95-118℉/35-48℃. So you can customize your suitable temperature.
This product is a great way to relax after a long day of activity that requires standing on your feet. Say no to leg pain and embrace a home electric foot care massager.
It is very beneficial for your entire body as it improves the blood circulation in your whole body.
A very low commitment and hassle-free device, so if you don't have any significant leg muscle issues and just want a pleasant foot pampering experience, then you can check out this product. I highly recommend it.
08# Snailax Shiatsu Foot Massager with Heat
Features:
2 in 1 foot and back massager
Pain relief in just 30 minutes
Easy to clean
Flexible for all foot shapes
This automatic foot massager machine is a beginner-level foot massager with an Effortless and to-the-point design. Its surface has 3 heating pads, and the board is very lightweight. You can put it vertically on a sofa wall and gently press your back against it.
Any foot/back pain you may have, whether occasional or chronic, this heat foot massager will relieve you for that in the longevity.
It is the best foot massager if you want something super simple. Its ergonomic design will make you feel like having a nice shiatsu massage from the comfort of your own home. Your toes to heels will be massaged according to your preference, as you can control the pressure points.
The electronic device is based on the US power voltage, just like all the foot massagers, we have discussed. If you live outside the US, consider buying a separate adaptor for this massager.
Snailax Shiatsu Foot Massager with Heat is a very safe-to-use device for all ages; just make sure any newly operated leg/ bone patient does not use this foot massager.
Your body and foot fatigue will be soothed if you get into the habit of frequently using this device in a controlled setting. You will also be so glad to hear when I tell you that you can clean this entire foot massager by washing the washing machine's protective cover and using a nice duster to clean away any winding dust.
09# MIKO Foot Massager Machine
Best Features:
Heat dispersion of 115°
Remote controlled
5 pressure setting
Hand kneading simulation
Miko foot care devices are always on the top-selling automatic foot managers list. But I have included a little below on the list today. That is because the functionality is certainly not groundbreaking and other foot massagers are far better than this.
Let's look at all the ways it can help you. First, a wireless remote is an excellent option for seniors or pregnant women who cannot bend or put pressure on their bellies to turn on and off the machine.
Miko shiatsu foot massager also has separate compartments for both feet and provides shiatsu kneading to the sides and the bottom of the total foot.
A great pain management tool for almost everyone and a total stress buster that is both comfortable and convenient.
You will find this foot massager beneficial if you are a patient with chronic pain, muscle soreness, neuropathy, diabetes, or plantar fasciitis.
10# Nekteck Shiatsu Foot Massager Machine
Best Features:
Clinical grade foot compartments
Built-in air compression
Pressure point stimulation
Soothing heat function
I was saving the best for last. Nekteck foot massager machine is one of best selling electric foot masager. If you ask anyone about their recommendation on automatic foot massaging machines, at least 2 out of 5 people will mention this device.
And rightfully so, the product is quintessential, provides excellent care to your sore feet, and releases muscle tension.
The built-in air compression has 2types of intercity adjustment that provide deep kneading and improves blood circulation. We emphasize blood circulation so much because that's how the cells in your body get oxygen, which means a better chance of the body healing itself.
The foot covers in the foot masager are detachable, so clean them as you wish. The great thing about all of the managers we have talked about today is that the rollers or the heating pads give us the feeling that a professional masseuse is massaging our legs and feet.
Consider them as a leg warmer as the deep wintertime approaches us. I mean, why not, right?
How to Properly Use Foot Massagers?
We have talked so much about the functionalities and the different types of automatic foot massagers available in the market but let's just stop and think about how to use your automatic foot massager properly.
Because believe it or not, some people overuse their product and end up getting into the hospital emergency room. So here are some general things to keep in mind about:
If you are using a heat-activated foot massager, you should not use that massager for more than 20 to 30 minutes in each area of your body.
Before using this kind of device, always ensure that you are sitting in a relaxed position or have warmed up a little bit.
The intensity and the temperature guideline should come with the box, so do not go over those numbers to stay in the central place.
If your foot massager is water-based, then make sure you clean your feet thoroughly before keeping your foot in the water, as you already know bacteria love moist places. And if you want to avoid bacterial infection, use antiseptic before and after using the foot massager.
Frequently Asked Question (FAQ)
Q1: How often should I use an automatic foot massager?
Ans: You can use an automatic foot massager as often as you like, but you should ensure that you use it for a short period. The maximum you should go for is 20 to 30 minutes, and 3 to 4 times a week.
Q2: What is the best type of automatic foot massager for me?
Ans: While there are so many options to choose from in the market, it is prevalent that people will get confused on what type of automatic Foot Massager is best for them.
The answer to this question is that we should start around what purpose you are trying to fulfill with this foot massager. if you are a chronic leg pain patient, you should go for a heating and shiatsu style kneading massager.
If you constantly have tired feet and are looking to have a relaxing time, enjoy the at-home experience of a foot spa. In that case, the cryotherapy for cold water therapy automatic foot massager should be the perfect solution for the end of your day.
Q3: What is the safe heating temperature that does not damage the muscles?
Ans: The average body temperature of a human body is 208℉/98 ℃. However, a human can withstand 108.14 degrees Fahrenheit or 42.3-degree celsius. So the safest heating temperature that does not damage muscle should not be over 209 for 210 degrees Fahrenheit.
Q4: How effective is foot massager for neuropathic patients?
Ans: Many foot care studies show that an automatic foot massager can benefit neuropathic patients. Deep kneading massages stimulate the neurons in your body and release feel-good hormones, eventually increasing the pain tolerance power and the body naturally healing itself.
Similar buying guide:
Final Thoughts
There is no better way to end your day with some nice relaxing foot massage, isn't it? I mean, think about it. Our feet do so much for us. Bare our weight, take us to different places, and even give us the energy to run for late meetings.
So it's only fair we show them some love with best automatic foot massage machine.