Hey, is it true that you throw out your cuticle nippers each time you see them getting dull? No? Yeah, I was thinking the same!
Why would anybody throw out dull cuticle nippers when they can sharpen them at home? Don't know how?
If you don't know how to sharpen cuticle nippers at home, I'm here to rescue you! Let me tell you a few easy-peasy methods to sharpen cuticle rippers at home.
How to Sharpen Cuticle Nippers at Home?
To sharpen cuticle nippers at home you will need only one to two tools. Either aluminum foil or tin foil or sandpaper. You can use tin foil as an alternative to aluminum foil or vice versa. If you have sandpaper, it's also enough!
Intrigued already? Let's check out more about sharpening cuticle nippers at home.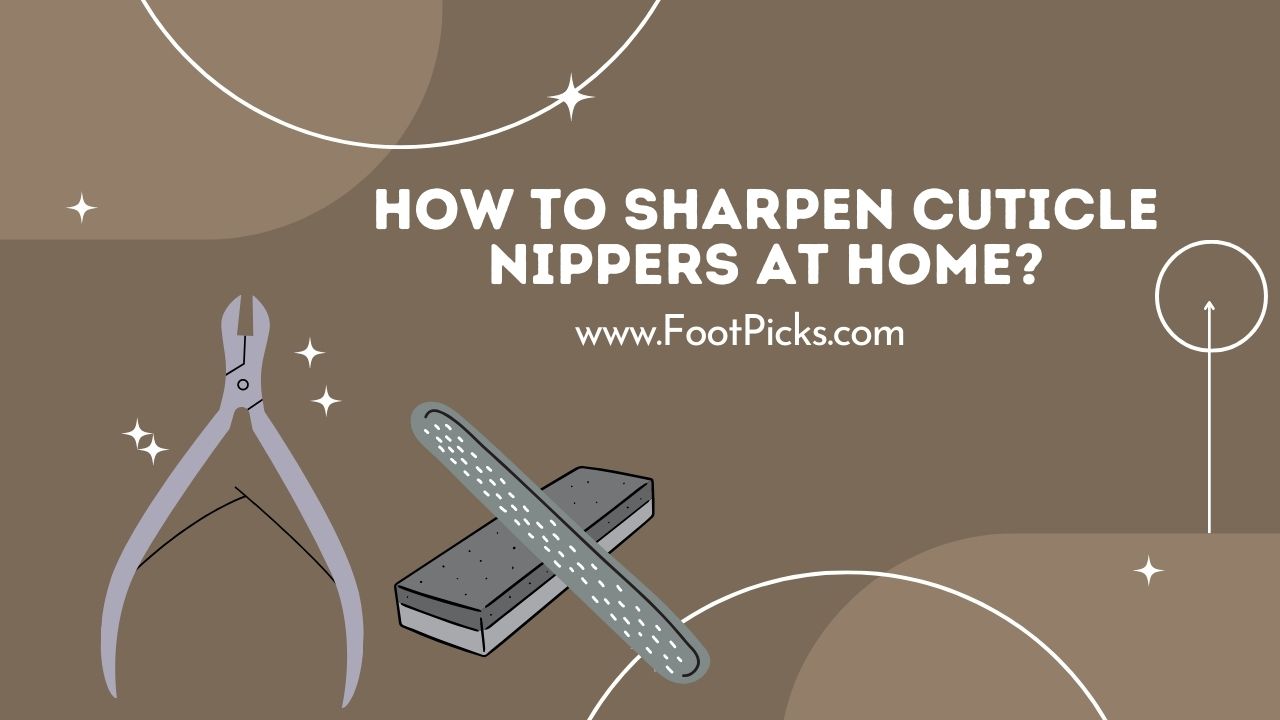 Brief Introduction of Each Tool
The tools mentioned above are the tools that can be found in your garage or your basement. Or you can simply buy them from your nearest hardware store. Let's get introduced to them briefly and know how it works.
Aluminum Foil: This element is quite common in every kitchen. Aluminum foil is that reflective silver-colored sheet you use to cover food, keep food warm and bake. It is a thin sheet that is made of aluminum.
Tin Foil: Tin foil is also a thin foil. But it's made with tin. The standard thickness of the tin foil is around 0.016 mm and the duty household foil is around 0.024 mm. It is a reflective solid material that works like aluminum foil.
Sandpaper: Sandpaper is a thick paper that has a rough and abrasive surface. The coating is done with sand. It is mostly used to smooth metallic things or wood.
All these three elements create friction when used to sharpen the cuticle nippers. This friction works like magic and sharps your cuticle nippers in no time!
Cuticle Nippers Sharpening Methods
Now I'll be sharing three super easy methods below. For your easy understanding, I'm keeping it simple and brief.
First, take aluminum foil sheets and fold them into around 8 to 10 layers. Cut them with the dull cuticle nipper. Keep cutting.
As mentioned before, the aluminum foil will create friction and the cuticle nipper will keep getting sharped. Continue cutting until you see that the cuticle nipper is sharpened properly.
In my opinion, this method is a very safe method to use and it's also a very quick one!
The method of using tin foil is the same as using aluminum foil. You can use tin foil as an alternative to aluminum foil.
You have to do the same things here as well. Fold the foil and keep cutting until it's sharpened completely.
Sandpaper works wonderfully while sharpening and smoothing any metallic materials. To use sandpaper in sharpening cuticle nippers, take a piece of sandpaper and rub it on the cuticle nipper blade.
Continue doing it for 5 seconds straight. Take breaks and do it around seven times. Usually, it's done by then.
Rinse it out. Check if it is sharpened finely. It is an extremely effective method but be careful while doing it. Try not to get any cuts or scratches.
To be sure of the sharpness, use the nippers through paper after using the methods. If you see a smooth cut with no tearing, consider it done. You can use plastic film to test it too.
Why Do You Need to Sharp Cuticle Nippers?
Well, cuticle nippers come directly in touch with your skin. Using dull and unsharpened cuticle nippers can be very painful and harmful to your skin.
When you try using a dull cuticle nipper to cut the excess cuticle, you need to put more pressure in order to get a proper cut. This pressure damages the skin and makes the place red and sore.
Moreover, there are lots of bacteria on the cuticle that protects your nail and the stainless steel of cuticle nippers makes the cuticles hygienic in every use.
So when you use an unsharpened and unmaintained cuticle nipper it might affect badly on your cuticle area.
When Should We Sharp Cuticle Nippers?
Are you thinking of sharpening your cuticle nippers on your own from now on? If yes then I think you should know about some signs that will help you know when to sharpen them. Of course, you cannot do it unnecessarily. So let's see how can you observe if your cuticle nippers need to be sharpened or cared for.
Firstly, if you see that you're getting a weak grip on your cuticle nipper, you should consider observing it well. Secondly, you can also notice deteriorated springs or mechanical malfunctions as symptoms. In these cases, choose any methods to sharpen it.
Thirdly, even though the steel of the nippers is mostly stainless, it is possible to notice some stains or color changes on the blade. It can be yellowish or a little reddish. Clean them and sharpen them after you notice the stain.
These signs basically scream to tell you that the cuticle nippers want to be maintained and sharpened.
How to Protect Cuticle Nippers from Damaging?
Now you know how to sharpen cuticle nippers at home. And you also know how much important it is to use a sharpened and protected cuticle nipper. But do you still think that buying new ones each time is easier?
I hope not! So I'm gonna give you some bonus information so that you can protect and preserve your cuticle nippers by yourself easily. You reuse and save money!
Let me provide you with some tips so that you can think straight:
Always keep the cuticle nippers clean. Clean nippers stay stainless and active for longer, so clean them after each use.
The best way to clean them is by using specialized products for disinfection. Do not use water as it might damage the material instead.
Dry the nipper after cleaning and try to keep it dry always.
Store them in a dry place as well, where there is less humidity.
Use lubricants from time to time to keep the mechanism of the nippers active and protected.
If you notice much damage or dullness, you can finally decide to take it directly to a professional.
Conclusion
As you have enough information about how to sharpen cuticle nippers at home now, hopefully, you can become a professional in your own cuticle nippers sharpening.
Just one piece of advice again, be careful with the cuticle tools and don't hurt yourself.
Keep your most used instrument protected the way they are supposed to be and live a healthy, excess cuticle-free life!
Read more: top 9 best cuticle scissors