Do you know what is a Jelly Pedicure? If you don't know, no problem. I am going to explain it with proper example.
Let's move forward for more!
So, let me starting with a simple question, have you ever given your feet a bit of attention? Or a pedicure sounds just like a fancy foot massage?
Well, even if you hadn't given it a thought yet, starting with a jelly pedicure will be a good call for you sweetie! Your tired muscles of feet will thank me later!
The compact jelly mixture massages your stressed feet muscles and gently exfoliates your flaky rough feet. The jelly pedicure has water in it which mixes with fragrant oils giving your feet a chance to breathe once again!
I know how annoying it is when your feet don't cooperate in a long hectic schedule! So that's why I figured out which pedicure can bring relief to my feet. And jelly pedicure it is! In this article, I will share everything so that you can have yours.
Table of Contents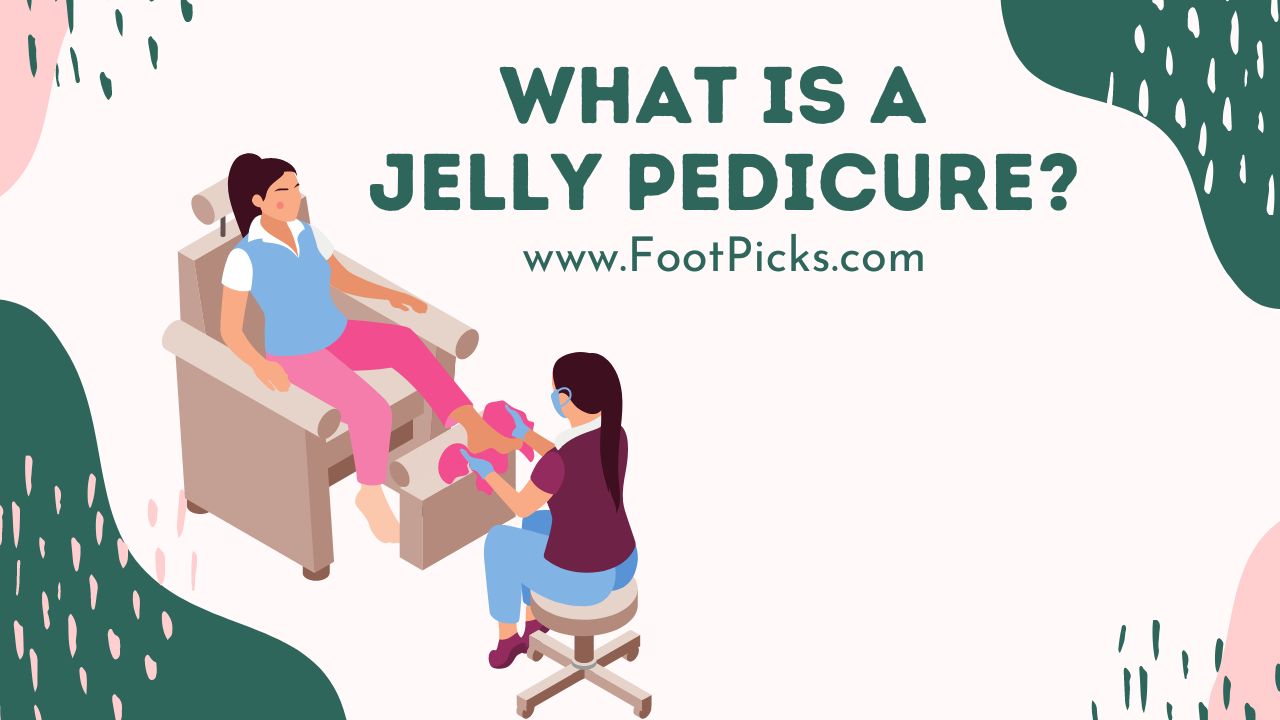 What is a Jelly Pedicure?
The first thing you need to know about it is a complete package of natural products. Jelly pedicure is a foot spa pedicure that uses a mixture of naturally extracted jelly and essential oils. When added to warm water it immediately transforms into a fluffy jelly!
Well, that's not the end! As it's made up of completely natural ingredients so it's environmentally safe too. The dead skins of your feet will be broken down and leave your feet right away.
The fun part is jelly pedicure has water reserved in it which adds an extra layer of moisturization and softens your cracked heels. Your feet ended up with a buttery texture.
Let's watch out for what more it has to offer.
Ingredients Used in Jelly Pedicure
In this jelly pedicure, diverse ingredients are being used such as different oils like grape seed oil, vitamin E oil, lavender massage oil, avocado oil, etc, and aloe vera extract.
Even it has papain enzymes derived from papaya or pineapple plants which take care of your dead skin cells.
All these natural ingredients of jelly pedicure are diffused into vitamin E oil that adds an extra layer of protection for your feet.
The Procedure of Jelly Pedicure
Though the process takes about 1 hour or a bit more than that, let your beautician do her job. And you enjoy the mini 8 relaxation procedure –
Take hot water and put the jelly-Pedi powder in it. For pedicures always keep in mind the water should not be too hot or too cold. Give it a few seconds and it'll turn into a fluffy jelly.
Before dipping your clients' legs in it, remove any previous nail polish and submerged the feet for 5-7 minutes.
Through the jelly mixture massage gently and use the CND citrus moisture scrub to exfoliate the feet. Wipe the toes with a towel. A small reminder whenever you are scrubbing do it very gently and apply little pressure with your hands.
Through the buffing pad scrub the rest of the callused areas too which are stubborn and don't want to leave.
In the hot tub add more warm water and jelly-Pedi mineral sea salt solution.
Apply CND marine cooling mask lastly and let it air dry which will eventually take 3-5 minutes.
Rinse it while it's dried and massage the feet with lavender massage oil thoroughly.
Lastly, clean the nail plates once again with remover and apply a base coat along with a top coat.
Jelly Pedicure at Home
Want to give yourself a personalized Pedi at home? A jelly pedicure with a few simple ingredients can be an ideal option. As it'll not only add smooth skin but also give you a reduced stress level day to enjoy.
Take warm water and make sure the temperature is ideal.
Take any random packet kit of a jelly pedicure. As it has two sections, add the first one to the water and mix.
Immediately it'll turn to jelly. For 15-20 minutes dip your feet into it.
Add the second part of the kit and stir it well. It'll convert into colored water.
After a few minutes of dipping your feet into it, dry the feet with a towel.
Lastly, either trim or add any nail paint of your choice.
What Impact Does It Create on the Skin of Feet?
Gives Healthy Feet:
If you are suffering from skin conditions such as eczema, or psoriasis then the jelly pedicure can help you with that.
It prevents damage by deducting inflammation and rashes on the foot by escalating blood circulation of the feet.
Keep the skin of the feet healthy by giving it vitamins that help to give the skin a boost.
Helps in reducing swollen feet.
The essential oils add a relaxing effect to the body which is why the stress levels of your body escalate downwards easily.
Polishes Up Feet Skin:
Dead skin cells from the feet go away with the jelly spa pedicure. As hydrotherapy is used in it which softens the hard skin of the feet. Thus you get a lot smoother, softer skin.
Even the jelly-like texture keeps your feet moisturized for a longer period. Gives hydration to your silky smooth feet.
Fragrance Lover:
Well, who doesn't love to enjoy a refreshing smell coming from their feet? The jelly pedicure has it, as it comprises essential oils that in a way are good for your feet.
Natural fruit extracts also play a big role in adding aroma.
Say Bye to Cracked Heel
Nobody wants to show their cracked heels while wearing beautiful sandals. The same goes for me. I've said bye to cracked heels now it's your time to let the jelly pedicure show its magic to you.
The jelly pedicure has all-natural extracts and essential oil in it. However, the papain enzyme plays a big role to get rid of your dry cracked heels. As the enzyme doesn't let the dead skin sit on your feet. Rather forces them to go away! Thus your skin looks clean, soft, silky, and healthy just like a newborn baby's feet!
Conclusion
No more tired muscles!
Well, it might sound silly but once you are into pampering, having this jelly spa pedicure is a must. This unique and fun pedicure will get your feet into shape.
Our feet need some extra help to heal and this jelly pedicure does that! Not only does it protect rather it gives your feet' skin a healthy glow too.
As now you know the purpose behind our discussion of what is a jelly pedicure, hope that it'll treat your feet.