If you are curious to know what is a Volcano pedicure, you should answer these questions:
Are you tired of the hard dry skin on your feet? Does that steal the beauty of your newly bought red heels? Are you tired with regular pedicure of your feet? Are you tired of foot care?
Well, you're not struggling all by yourself. This is one of the most persistent issues which is definitely not eye-soothing. Anyway, don't be disheartened, sweeties! To bring out your feet back to life volcano pedicure can be your trump card!
Yes, you've heard us right! Our article talks about What is a volcano pedicure? which will help to turn your feet ' skin back to life. And the fun part is you can do it at home too. A parlor at home sounds fun, right? Grab a cup of coffee and enjoy the transformation.
Note: Before learn Volcano Pedicure, you should know about what is Foot Pedicure?
Table of Contents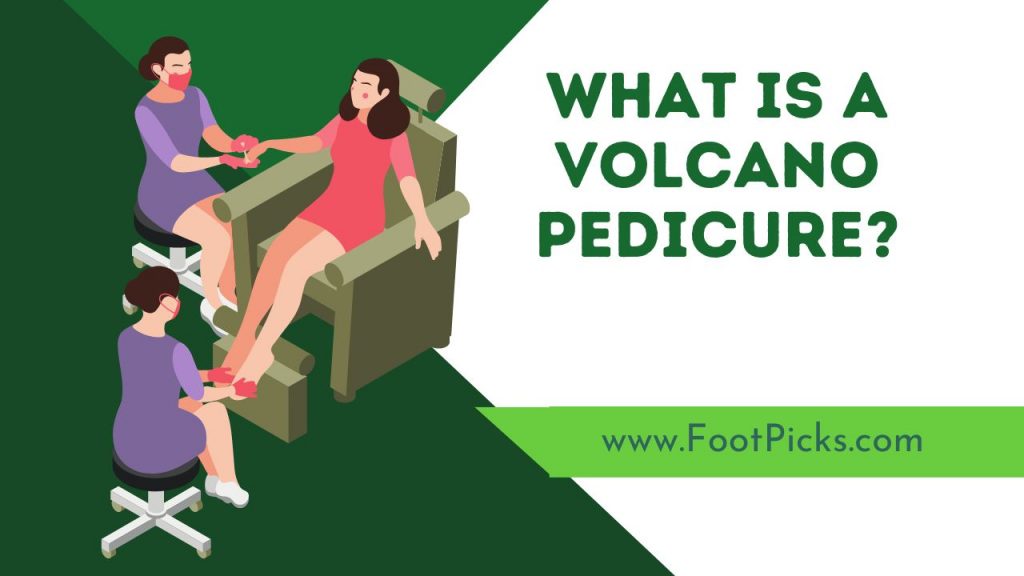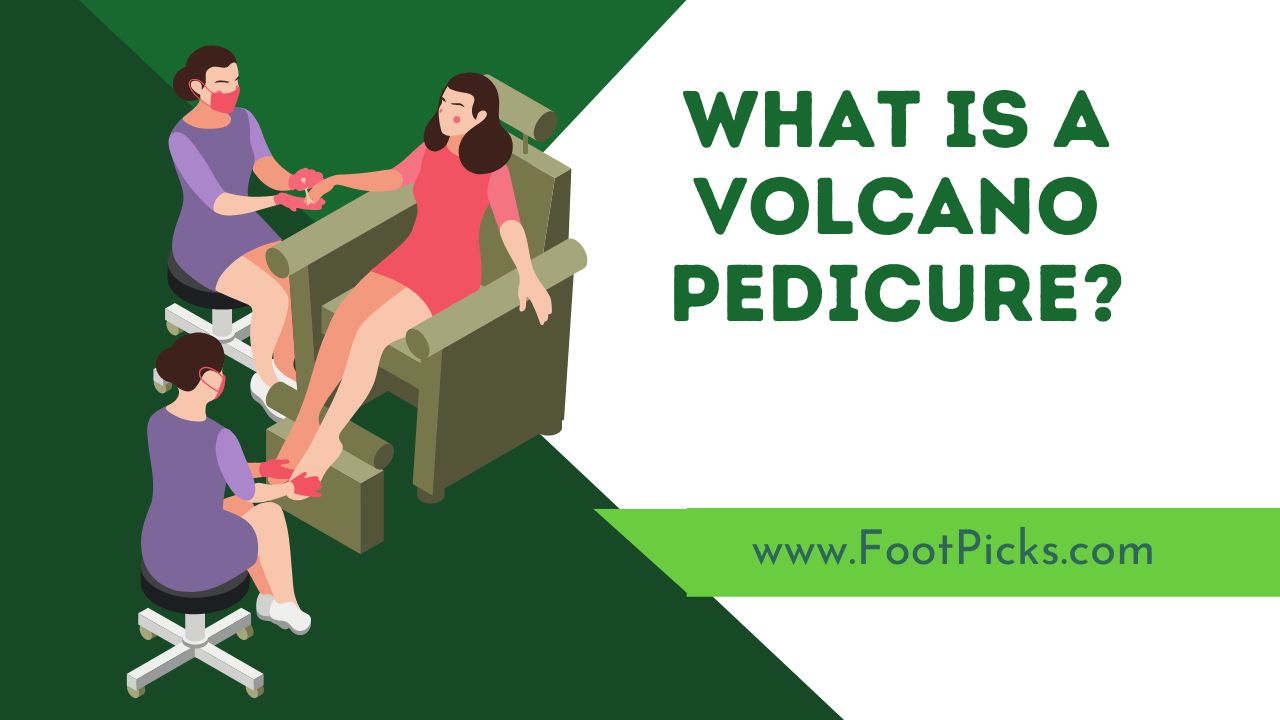 What is a Volcano Pedicure?
A volcano pedicure includes the usage of warm water, Epsom salt, a mud mask, and aromatic oil which exfoliates the skin of your feet. That takes away the stubborn dry skin and turns your feet' skin into a really smooth one.
And the entire process does not just end with that! It comes with a pre-preparation process that takes your dry flaky feet away.
Volcano pedicure lets your skin feel smooth, silky, and clean at the same time. This occurs due to exfoliation which cleans the surface layer and rejuvenates the older skin turning it into buttery skin.
What is the 5-step Volcano Treatment?
A pedicure generally is a cosmetic treatment for your feet and toenails. And a volcano pedicure is a part of it. You can find it at any cosmetic shop or online. This 5-step volcano spa treatment can become your bundle of joy when your feet ' skin needs a little bit of extra care. Let's go through the steps-
Step 1: Detox Volcano Crystals
Take a bowl of warm water and pour a full packet of volcano crystals into it. With your bare hand mix it evenly and enjoy the fun bubble ignition.
Step 2: Detox Volcano Activator
Right after the addition of volcano crystals straight away add the entire packet of the volcano activator which will activate the bubbling volcano outbreak. Keep your feet soaked into it for 3-4 minutes which will both detoxify and soften your skin. Grab a towel and pat dry your legs.
Step 3: Sugar Scrubbing
No pedicure without exfoliation is complete. Take a generous amount of sugar scrub and massage your skin. Sugar and essential oil rejuvenate the skin which makes your skin feel buttery.
Step 4: Collagen Cream Mask
Another addition for your feet is a collagen cream mask which takes away the impurities. Then apply the mask completely over your legs and feet and wrap it with a towel and let it dry for 10-12 minutes to do its job.
Step 5: Massage Lotion
To make your skin feel hydrated and moisturized take the collagen massage lotion and massage it thoroughly and you're done!
How to Have Volcano Pedicure at Home?
The fun thing about this volcano spa pedicure is you can even do it at home too! Either buy a 5-step kit volcano treatment or do it just with a few things present at your home. When you're in a need of relaxation give your legs the easy peasy at-home volcano pedicure. The simple procedure involves steps-
Take a small bowl with hot water in it.
Take 2 tablespoons of Epsom salt and mix it into hot water with your hand until it dissolves completely.
You can add apple cider vinegar or any oil into it but it's completely optional.
Keep your feet soaked in the Epsom salt solution for 5-10 minutes.
Then take out your feet and wash them with warm water and dry it with a towel.
After cleaning the dry skin, apply any mud-mask.
When the mud-mask dries, with the help of water clean it and finally dry it with a towel once again.
For hydration take enough lotion and rub it into your legs and let it dry then wear a pair of socks to keep the moisture for a longer period.
Why Should One Try It?
Why shouldn't one try it, tell me that before. A volcano pedicure is a versatile procedure that can be done with both in-spa pedicures or at-home pedicures too.
The at-home procedure is very simple as it only claims a few things that are more or less available in all of our homes. The addition of cider vinegar, and olive oil into your warm water can help your skin's dead cells to loosen up. Then scrub it with brown sugar.
This salon or at-home-based pedicure is affordable in both ways. For people who had foot surgery or had problems with their feet, volcano pedicures can help them to alleviate their pain.
Volcano pedicure lets you relax and takes away your tiredness and helps you to enjoy the tranquility while having a cup of coffee!
Merits of Volcano Pedicure:
A volcano pedicure not only takes care of your feet rather takes care of your pocket too. As it's an affordable pedicure that requires only a few things to make you feel pampered.
For people who have had foot surgery or have medical issues with their feet, this particular pedicure can deduct their pain a bit.
This pedicure includes a mask that's why all the stubborn dirt and junks easily come off from feet.
This pedicure doesn't ask you to rely on nail salons only, rather you can do it at home too. All you need is essential oils, a sugar scrub, hot water, and a towel.
Demerits of a Volcano Pedicure:
Though the pedicure is budget-friendly, every care takes a bit of your time. So you've to keep 1-2 hours at hand for it.
Sadly, this particular pedicure is not offered by every kind of salon. You might struggle a bit if you're relying on a salon for it.
Note: Can I wear shoes immediately after pedicure my foot? Here is the answer you can read.
Final Thoughts
Who doesn't love buttery smooth skin on their feet? Well, I do! And I can guarantee that you love it too!
Moreover, when the whole procedure of the volcano pedicure is a cost-efficient process there remain no ifs-buts! Let the remedy take away your dry and rough feet.
Volcano pedicure does come with a bigger solution for your foot but the unavailability of the process in the regular salon makes it hard to access easily! If you're struggling with foot-related problems it can be the knight in shining armor for you.
Thus, today, our article talks about What is a volcano pedicure? And how you can do it at home and many other things cumulatively.
Related Article: