So, you are here to learn what socks to wear with white sneakers, right? Don't worry! We covered each and every part of this topic here. So, let's move forward to discover more!
In this distinct age of fashion, who would not want to rock a pair of white sneakers? These shoes look fantastic and are both fashionable and appealing.
One of the best practical pairs of shoes you will ever possess is a great pair of white sneakers. Why you may ask? It is primarily due to the fact that they may be dressed up or worn casually with ease.
But it seems that a lot of people are unsure of what socks to wear with white sneakers. It is very difficult to keep the white color in sync with your overall outfit, after all.
Therefore, in this article, you will learn about what socks to wear with white sneakers, as well as how to rock them with ease.
Table of Contents
What Socks to Wear With White Sneakers?
When it comes to deciding which socks to wear with your white sneakers, it primarily depends on two factors: the occasion and the outfit. Various occasions call for different outfits, which may affect the type of socks you should wear with your white sneakers.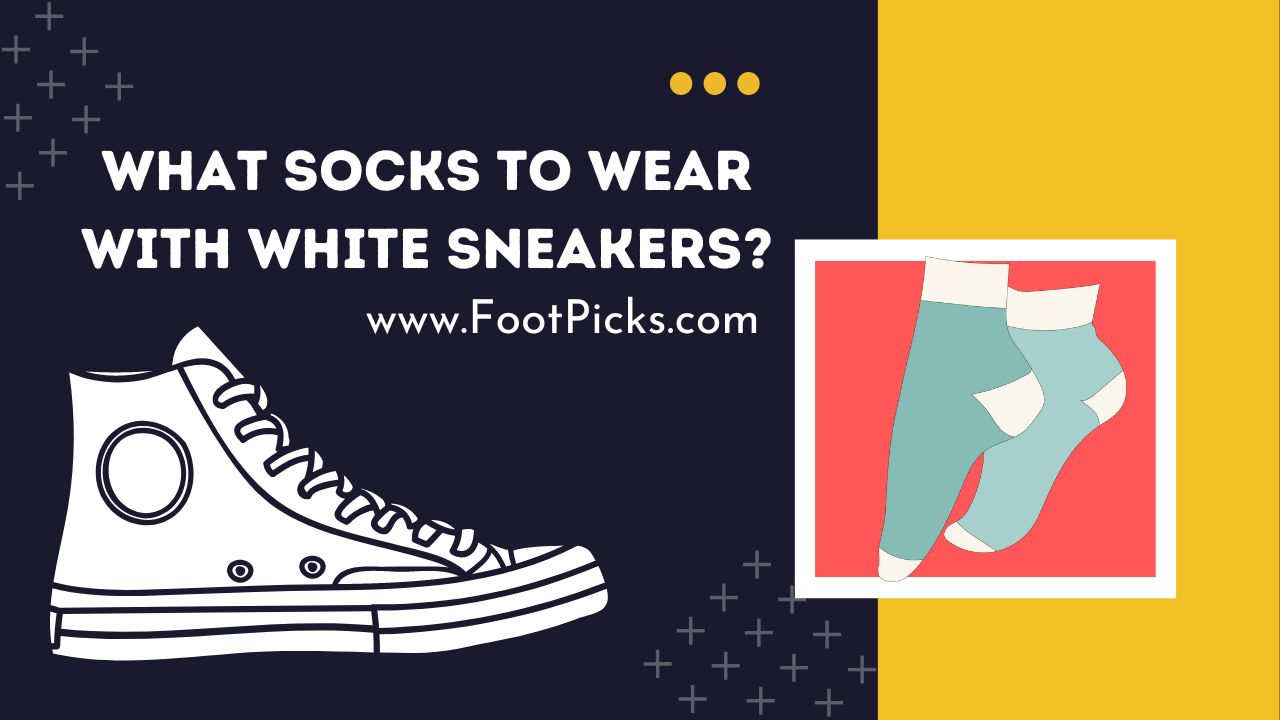 The white sneaker is either made of quality leather or light fabric and has basic qualities that enable it to match any fashion concept. We will look at some trendy ways to wear white sneakers throughout our article, so read on!
How to Choose Socks for White Sneakers?
Check these facts before purchase socks for white sneakers:
1.
The Color of the Socks
Adding some color to your appearance is the most crucial thing to make it complete. Let's start off by discussing what color socks you could match your white sneakers with.
It depends on the occasion when deciding what color socks to wear. Firstly, with your white sneakers, you must be aware of your surroundings. Next, decide on the sock's color based on where you are going.
For example, if you are heading to a meeting or an interview, you can pair your white sneakers with white socks. It will have an impact on how the first impression is set.
If you are going to spend a night out, you could go all out and pair your white sneakers with colorful spring socks. It will have a stunning and natural appearance.
Additionally, pick a dark color if you do not want to match your white shoes with white socks. Black, grey, and navy all look good with white sneakers. Just as a suggestion, you may consider wearing black socks with your black suit!
2. The Length of the Socks
It is important to take into account the sock's length. In reality, there are many different types of socks available in a range of sizes. For example, an ankle sock, a half-length sock, and an insole sock. You can wear any of them with a pair of white sneakers.
Like color, sock length preference completely varies from person to person. There are those among us who enjoy mid-length socks, others who choose ankle socks, and some who cannot function without knee-high socks. And then there are some people who might feel more comfortable not wearing socks at all!
They look great in white sneakers, no matter what they are wearing.
However, it is recommended to wear long socks in cold weather to keep your feet warm, while short socks should be worn in hot weather to keep your feet comfortable.
3. The Design and Style of the Socks
The sock's style and design, too, should not be overlooked. It might change the way you see things in general. There are a few things to take into consideration if you are trying to sport white sneakers.
Socks cannot be worn in any random pattern or style. It distorts not only your outer appearance but also the way you are seen by others. Therefore, in order to match your white sneakers, it is strongly recommended that you wear socks with a simple pattern.
Can I wear white sneakers without socks?
Never wear sneakers without socks. It cannot be emphasized enough how important it is to wear socks with your pair of sneakers.
However, socks and sneakers are not something that many people want to wear as a combination.
People do not realize that forgoing socks with your sneakers is a guaranteed approach to getting an infection on your foot!
How so you may ask?
Every day, up to one-fourth liter of water is lost through your feet as sweat. Additionally, the warm and moist environment your feet are in dramatically encourages the growth of bacteria while also giving off vile odors.
Thus, for the sake of keeping your feet free from infection and odor, be sure to wear socks and to wash your sneakers frequently.
How Do You Wear White Sneakers Fashionably?
Learn more regarding what socks to wear with white sneakers:
Add Socks as A Finishing Touch
White socks are a traditional option for accessorizing with white sneakers. However, it is crucial to choose the appropriate sock size for your specific sneaker.
To keep your outfit looking polished, consider combining low-top shoes with a set of insole socks.
Strive for A Formal Appearance
White shoes go with more than simply casual attire. For corporate event attires, put on crisp, white sneakers along with pleated pants, having your top tucked in, and a black or grey suit on top.
If you are pairing white sneakers with more professional or business-like attire, make sure they are polished and cleaned thoroughly.
Adopt A Traditional Approach
White sneakers go great with all of your traditional, basic clothing items, such as leather jackets, denim jackets, turtleneck sweaters, and high-quality white t-shirts.
White sneakers go hand in hand with these timeless pieces of clothing, so it is a win-win from every angle!
Select the Proper Denim
Any variety of jeans, from baggy to slim, light wash to dark wash, black to blue, go well with white sneakers. However, it is important to pay attention to your jeans' length and the height of your shoes' ankles.
Dress Appropriately for the weather
Both summer and winter clothing look great with white sneakers or shoes. The summer weather is the perfect time to wear your favorite shoes with a colorful floral dress or a pair of slacks.
In the colder months, wear your white sneakers with plain jeans, a thick sweater, and a beige blazer on top. You may also add an extra scarf or beanie to this outfit as an optional accessory to stay cozy.
Can You Wear White Sneakers With Everything?
White sneakers are a type of timeless footwear that go with multiple different fashion trends and outfits. They are available in a range of materials, including synthetic, canvas, and white leather.
Regardless of the event you are preparing for, a pair of white sneakers make a great regular footwear and fashion statement.
So, why not get one or take yours out of the closet for a spin?
Final Thoughts
Everything needs to be immaculate and flawless if you want to appear chic and attractive. White sneakers, in particular, are the ideal choice for enhancing your character. Everyone needs a great pair of white sneakers in their wardrobe since they go with everything.
However, I must admit, it can be difficult to choose the ideal pair of socks for your white sneakers.
There are several considerations to weigh while picking socks for your precious white sneakers. For instance, the weather, the color, the length, the design, and of course, the occasion.
But don't be alarmed! We make it simple for you to make a decision in our article by giving you more than enough details about what socks to wear with white sneakers.
Similar Article: