Unless you have been completely disconnected from the world, I am pretty sure you have heard of Bombas.
Since 2013, the business has garnered attention in comfort-seeking clothing. Bombas has recently added t-shirts and underwear to their line of products, although they are most known for their revolutionary socks.
You most likely consider socks to be a disposable product, like the majority of people do.  Bombas socks, however, are crafted to be cleaned and worn frequently.
On the other hand, how Bombas socks should be washed is among the most frequently asked questions by consumers.
This article, therefore, will demonstrate whether Bombas Socks are machine washable to maintain their softness and comfort. Continue reading to find out more!
Caution! Does Socks are perfect match with clog? The answer is here.
Are Bombas Socks Machine Washable?
Yes, Bombas socks are machine-washable. The socks should be cleaned in the machine in a gentle mode and with mild detergent.
According to sock designers, thorough cleaning is crucial to the durability of their items. Bombas socks should be washed in cold water with a mild detergent, according to the manufacturer. If you prefer not to use detergent and fabric softener, you can instead hand wash them.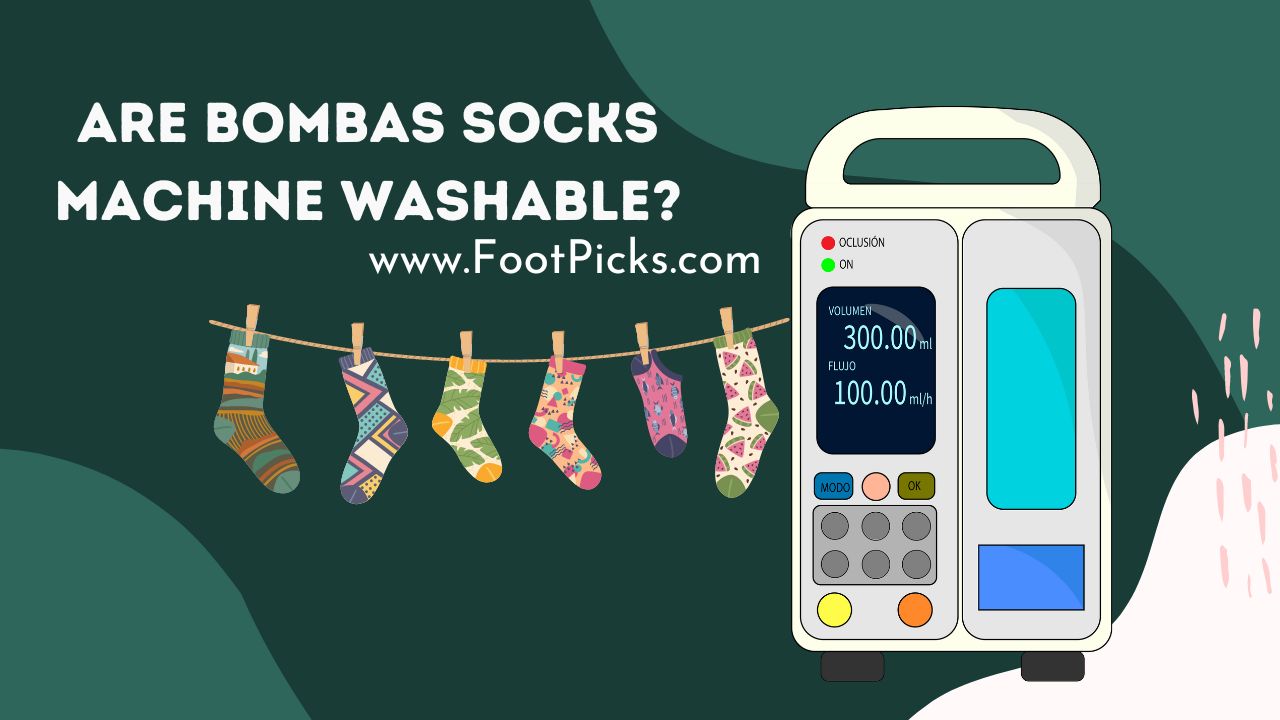 What Are the Right Bomba Socks Washing Instructions?
1# Place the Socks in the Washing Machine
Bombas socks can be washed in a machine, as discussed previously.  They can also be washed in a machine with colored clothes. However, make sure to use a light detergent and run them through the gentle cycle. Additionally, you should use cold water and stay away from hot water, which could induce shrinkage.
On the other hand, you can use some non-chlorine bleach if necessary. Bombas socks are built to last, but if they are washed improperly, they risk being damaged. Therefore, avoid washing them with chemical agents like fabric softener or bleach that damage the material.
Some individuals tend to hand wash their clothes, which is safe for the socks as well. However, only use warm or cold water while washing, and use mild cleansers like soap.
2# Put Socks in the Dryer
Bombas socks can be placed in the dryer after the washing process has finished. Since excessive heat serves to wear down fabric more quickly, you must tumble dry the socks on the lowest setting available.
Another alternative is to let them air dry for the following several hours while they are laid out flat. Even though it will take longer, it will still be effective.
A point to be noted, compression socks from Bombas shouldn't be dried in a dryer. Due to the tight fit of compression socks, drying them may make them difficult to wear. Thus, your compression socks should always be air-dried.
3# Pair, Fold, and Stack Them in Your Wardrobe
After completing the first two processes, your Bombas socks should be completely clean and dry.
Once they are dry, pair and carefully fold your socks. The final step is to arrange them carefully in a cabinet for storage.
It is that simple to take care of your Bombas Socks. Washing and drying Bombas socks doesn't involve any complicated steps or mystical formulas. They can be washed in the washing machine with your other clothes simply.
How Often Should You Wash Bombas Socks?
If you are like most people, you likely do not intend to wash your favorite pair of Bombas socks too frequently. So how frequently should Bombas socks be washed?
It solely depends on how actively your Bombas Socks are being utilized.
When climbing or bicycling over muddy ground, socks will need to be washed more regularly than when participating in an enclosed sports game.
While washing them less regularly helps keep them looking more pristine for longer, it also increases the possibility of bacterial growth in the fabric's fibers in between washings. The results will not become apparent for a few weeks, but eventually, the bacteria will start to decompose and can result in smelly feet.
Therefore, according to your activities, you should choose how frequently your Bombas Socks should be washed.
Do Bombas Socks Shrink After the First Wash?
During the initial washing and drying process, all Bombas socks shrink only slightly. However, following that initial washing, they won't continue to shrink any further.
Take care to wash the Bombas socks on a moderate cycle with a light detergent when washing them. Avoid using hot water because it could make them shrink.
To get the best outcomes, wash your Bombas socks in cold water while on the gentle cycle. Then tumble-dry them on a low setting to avoid fading. Additionally, you should try to keep away from any harsh chemicals because they could trigger the socks to lose their size and shape.
Are Bombas Socks Worth It?
Are you wondering what makes Bombas socks unique?
Bombas socks have earned a reputation for being among the coziest socks available. Additionally, they rank among the most charitable socks available! Each order you place on the Bombas website results in a donation to a homeless shelter. In other words, socks for you are socks that are given to a person in need.
The sock durability is far superior to that of the cheap, bulk purchase ordinary socks, so you will likely have to purchase fewer socks less frequently.
Bombas is a good investment for socks, just based on that. With one purchase of a pair of Bombas socks, you receive the durability and quality of several pairs. They constructed their socks with a great deal of attention and care, which became clearly evident.
Frequently Asked Questions
1# Is Fabric Softener Safe to Use With Bombas Socks?
When washing Bombas socks solely made out of cotton, you can add fabric softener. On the contrary, avoid using fabric softener on any Bombas Socks made out of merino wool.
Caution! Bombas & Bamboo Socks are different things.
2# Is it Possible to Iron Bombas Socks?
It is advised to avoid ironing socks from Bombas. One hundred percent pure wool clothing can be ironed without issue. However, merino wool is combined with other materials to create the Bombas socks. Therefore, ironing is not advised for wool blends.
3# How Do I Remove Wrinkles from my Bombas Socks?
To remove creases from wool socks and other wool items, use a steam iron. While taking one or two hot showers, hang your clothing articles in the bathroom or invest in a handheld fabric steamer.
4# Do My Bombas Socks Need to Be Hand-Wash?
Washing these socks by hand is perfectly acceptable. However, always make sure to use a gentle cleanser and adhere to the machine washing instructions. And most important of all, make sure to give them a good rinsing before letting them completely air dry.
Final Thoughts
Bombas socks are unlike anything you have ever experienced in terms of comfort. These comfortable, sturdy socks feel like clouds on your feet. They essentially embody comfort.
Bombas socks have earned a reputation for being among the coziest socks available in the market. You can wash and clean your Bombas socks by following just a few simple instructions.
As a result, today we come to you with an article that discusses all about the Bombas socks, including if Bombas Socks are machine washable.
These pointers are meant to help you prolong the life of your favorite pair of comfy socks. Thank us later!